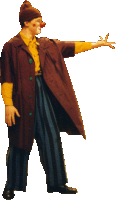 ... artists, acrobats, clowns, jugglers, illusionists, animateurs.
We walk on stilts, we ride unicycles, we juggle and we play the diabolo.
We breath and eat fire and we walk high on a tightwire.
Sometimes we are giraffes, or a giant puppet, sometimes we are living dolls.
We are solists. And we are a group.
We're always as many as you need for your programme.